For all the (chosen) peeps and their adjacents, a Latkes, Smoked Salmon, and Caviar Board.
Since we are mid-pandemic and some cities, counties, hell entire states like California, are in various versions of lockdown, meaning no gathering with people outside your immediate household and sharing meals, let alone food off a communal board, use these photos and shopping lists as inspiration and a guide for creating smaller presentations, mini boards, or just even a plate for an intimate celebration with your own household or a digital "gathering."
Below is a copy+paste-able list of suggested ingredients and where to buy, as well as resources for some of the tools and equipment.
TOOLS and EQUIPMENT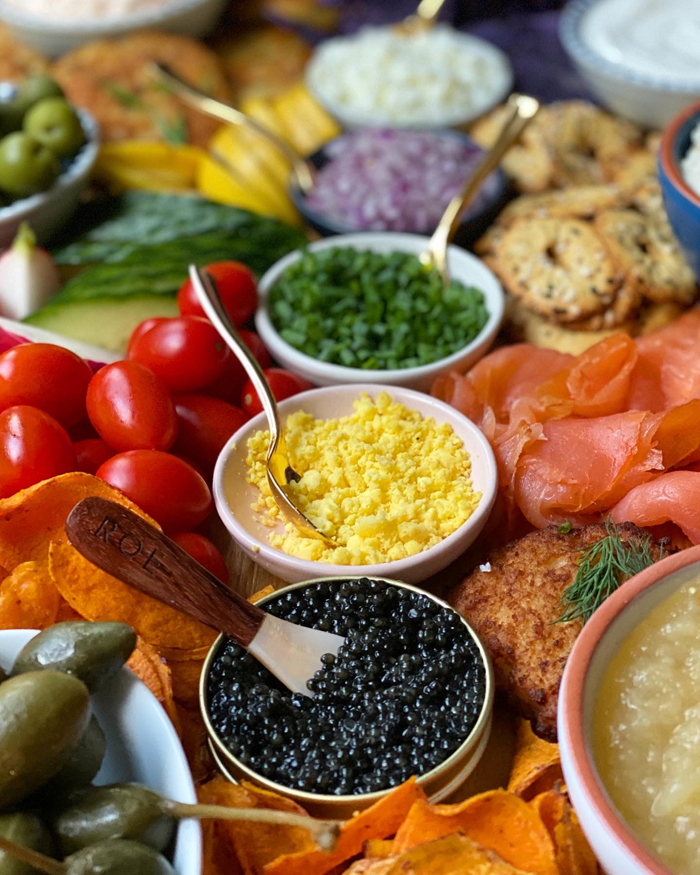 INGREDIENTS NOTES and RESOURCES
LATKES and ACCOMPANIMENTS
Potato Latkes. The potato latkes shown in the photos are fully-cooked and frozen, available at Trader Joe's
Cauliflower Latkes. Like the potato latkes, these are available fully-cooked and frozen at Trader Joe's. They are labeled as "Cauliflower Pancakes," and are made with mostly cauliflower, with potato starch as a binder. You can also get Cauliflower Hash Browns, which are part potato.
Sweet Potato Waffle Fries. I use this brand for all frozen fries, including Sweet Potato Waffles Fries. (They also have regular potato waffle fries.)
Applesauce.
Sour Cream. This is an organic sour cream produced by a California-based dairy. You can also use creme fraiche, which is similar to sour cream, but higher in fat (30% in creme friache vs 20% in sour cream) and less tangy. Creme fraiche is also a traditional accompaniment for caviar.
SMOKED FISH and ACCOMPANIMENTS
Smoked Salmon. For special occasions, I use Petrossian smoked salmon (same brand as caviar). Any smoked salmon you like, which can usually be found in the seafood section of a grocery store works. Look for wild King cold smoked salmon.
Smoked Whitefish Dip. Delis and some grocery stores will have smoked whitefish dip made with a combination of cream cheese and other dairy ingredients like sour cream, yogurt, or cheese. You can also make this Smoked Whitefish "pate" made with butter and creme fraiche.
Smoked Salmon Dip. You can buy smoked salmon dip, which can be made with anything from cream cheese to yogurt. This is Claude Monet's recipe (yes, that Claude Monet, the artists) for Smoked Salmon spread with goat cheese.
Capers and Caperberries.
Castelveltrano Olives.
CAVIAR and ACCOMPANIMENTS
Caviar. I almost always get my caviar from Petrossian Caviar, which is available online, or in their boutiques in West Hollywood and New York City. The caviar pictured in the photo is a different brand, ROE.
Egg White and Yolks.
Chives.
Red Onions.
EXTRA ACCOMPANIMENTS
Apple Slices. Fuji apples are my all-time favorite. I get most fresh fruit and vegetables from the Santa Monica Farmers Market (Los Angeles) or Whole Foods Market
Persian Cucumber Slices. These are small "mini" cucumbers available year-round with a thin skin (not Kirby/pickling cucumbers). I get most fresh fruit and vegetables from the Santa Monica Farmers Market (Los Angeles) or Whole Foods Market
Lemons. Farmers Market or parents' trees in the late fall and winter when citrus is in season otherwise, year round at Whole Foods Market
Tomatoes. Tomatoes are not in season in locally in the late fall/winter, so these are organic from Whole Foods Market
Radishes. I get most fresh fruit and vegetables from the Santa Monica Farmers Market (Los Angeles) or Whole Foods Market
Sweet Potato Chips. This brand is the one I almost always buy for sweet potato chips.
Purple Potato Chips. This brand has a bag of all blue potato chips, but also has bags that include blue potato chips with mixes of other root vegetables so you can get more color bang for your buck.
Everything Bagel Chips. These are not actually made of any part of bagel, they are more like pretzels crisps, crunchy and flat.